Communicate The Best Of

Yourself
I built a successful career as TV, Film and Stage Actress. Now I use my 20 years of experience to train and coach dynamic individuals in presentation techniques, soft skills and verbal and non-verbal communication.
Hi,
I'm Elia
---
I'm a Public Speaking and Communication coach, a TEDx speaker coach, as well as a television and film actress. For the past 20 years, I've helped clients around the world perfect their presence and speaking skills onstage, in the courtroom, classroom, boardroom and onscreen. I believe that charisma is a skill that can be learned and which, once mastered, has the potential to motivate, persuade, inspire, and advance business and personal interests.
TRANSFORM THE WAY YOU PRESENT & COMMUNICATE IN PERSON AND IN VIDEO
What I Will Teach You: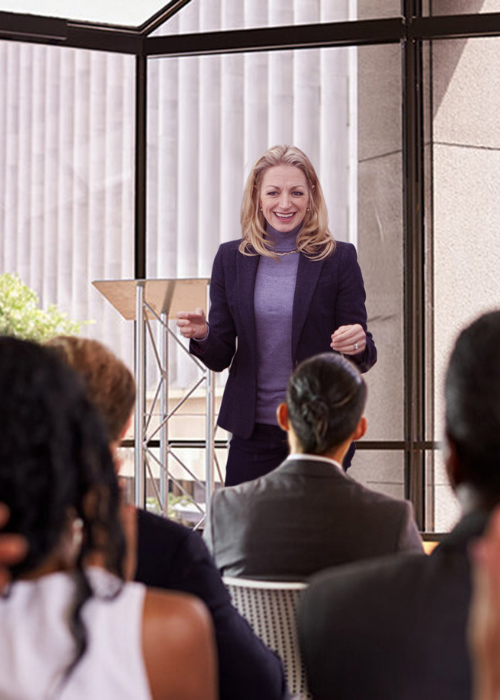 Physical presence/ body language/ gestures and their impact upon the audience
The voice and how to use it with power
Reading the body language and paraverbal signals of your client/audience
How to build strong rapport quickly with your client/audience
When to talk and when to listen (active listening)
How to balance powerpoint presentations (slides, visuals) with your delivery
How to make presentations more interesting and keep your audience's attention
The power of clear, concise messages and how to guarantee your message persuades every single time.
The secrets of great communicators...
---
An interview with NY Times Bestseller David Bach
Who needs a public speaking coach?
---
and why excelling at public speaking will change your life… (Interview in the Italian language)
What people are saying about my work
"Last week, I attended Elia's 2-days Workshop on Public Speaking Skills here at the European University Institute -- without any doubt, a top notch learning experience! Elia was extremely well prepared, fun to work with, and she spent considerable time on one-to-one feedback throughout the workshop. She draw from her public speaking professional experience, acting career, and personal experience to deliver a high-level, high impact training. I personally feel that I learnt a lot, and would definitely want to work with Elia again! I strongly recommend her classes."
Massimiliano Santini
Policy Leader Fellow at European University Institute
"I had the absolute pleasure of being in Elia's class at The European school of Economics (Florence). Before joining Elia's class I had the misconception that I did not need a class on Public speaking. I opted for her class by chance and I couldn't have been more elated with this choice. Elia is a master of the art of personal (self) improvement and she makes everyone record the process every step of the way through videos and photos. By the end of the term, I had recorded evidence of the immense changes my confidence, speech and posture had gone through for the better."
Vandana Pathak
Public Relations Professional, P4C.in
"Elia is a masterful and compelling speech coach. She gets down into the trenches with you to bring out the best of your talents. Her dedication to helping you take your coaching to the next level is beyond anything I have ever experience. I am beyond thankful for her unwavering support to get my speaking skills to the level needed to be a professional and captivating speaker."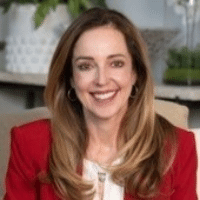 Terry Sidford
Keynote Speaker – Coach – Author www.terrysidford.com
"Elia è una persona di elevato profilo professionale, culturale e umano. Ha grandi capacità comunicative, e riesce a trasmettere energia positiva durante le sue interazioni con il cliente o nell'ambito di un gruppo di lavoro, nell'ambito del quale evidenzia innate doti di leadership e mediazione. E' sicuramente una persona affidabile e puntuale."
Pierpaolo Chelo
International Trade and Marketing project manager PromoFirenze (Intl. Agency of the Florence Chamber of Commerce)
"I had the chance to take part in a public speaking training led by Elia. She has all the necessary know-how, practical experience, personal energy and individualized attention to help beginners and advanced speakers alike. And it was lots of fun!"
Tomas Jungwirth
Policy Leader Fellow at European University Institute
"I am so thankful to Elia for all that she taught me. I still have much work to do, but what I know because of this class has changed my life forever. Instead of being a lazy-sounding hunchback, I am now a confident and aware person! I can never thank Elia enough for the gift she has given me"
Rebecca Niner
Undergraduate college student
"I had the pleasure to take part in a two-day workshop on public speaking delivered by Elia at the European University Institute in Florence. I can firmly assert that this was a life-changing experience that trained me to control my anxiety so as to give the best of me when speaking in front of an audience. I have tried to apply all the tips and tricks that Elia gave me and I have even passed them on to colleagues that were feeling stressed or nervous before giving a public talk. It worked every time!"
Claudia Badulescu
Researcher, European University Institute
"I was in Elia's Body Language and Communication Techniques class. Elia was such a wonderful teacher. I learned so much from the interview workshops she led us in as well as the public speaking lessons. A few weeks after finishing Elia's class, I applied for two internships and I was offered both of the positions I applied for! In addition, my parents said they saw a major change in my articulation, projection, and the overall way in which I carry myself. I know that I owe most of the improvements that I made to Elia because her class is the reason that I have become more collected and mature."
Katherine Conlin
Undergraduate college student
"It was a great pleasure to be in this wonderful workshop with Elia. I want to say a huge thanks to her. I think I can speak for all of us that she has given us a life changing experience."
Zheng Wang
Economist, European University Institute
"Elia paid considerable attention to each participant and his/her problems. Also, she provided participants with instruments they can implement prior to a public speech they will deliver, making it practical."
Anonymous
Attended a corporate public speaking workshop
"Elia was my professor for the Body Language and Communication class that I took during my Fall semester in 2010. Throughout the semester I learned a lot about the significance of body language and how often we use it in day to day life. As a class, we grew very comfortable with one another as Elia created an efficient, judge-free learning environment. It was obvious that Elia was dedicated and always prepared for class. What I have learned from Elia continues to be useful and relevant to my everyday life."
Shalyn Benway
Undergraduate college student
"I found the course very engaging. Elia was very dynamic in her explanations and also with the types of activities she had us do. There was never a dull moment. Elia was very hands on, which I felt made for a much more deep learning experience. Though she had us practice speaking, which was for me something I was not super comfortable with (hence why I joined the workshop), Elia managed to create an environment that was so positive and non-judgmental that it was actual fine for me to speak/perform publicly."
Anonymous
Public Speaking Workshop Attendee